Educational Opportunities
Educational programs for students, staff education benefit, seminars, research week, and student employment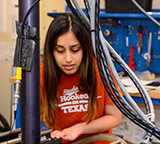 The Science and Engineering Apprenticeship program puts research in engineering, computer science, physics, and math into the hands of students during the summer between high school and college. Students selected for the program often have their first experience working in a laboratory research-and-development environment and learn more about careers in their chosen fields of study. Preference is given to students planning to attend The University of Texas at Austin.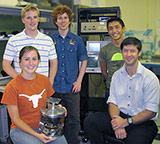 The Honors IR&D Summer Internship offers paid hands-on experience with the option for continued part-time student employment during the fall or spring semesters. Interns are selected from a list of candidates provided by the university's deans of the Cockrell School of Engineering and the College of Natural Sciences to participate in ongoing sponsored ARL:UT research programs. Because many of the programs focus on research that improves our national security, participating students often choose to pursue careers in this area after graduation.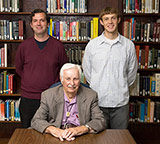 Since 2006, ARL:UT has chosen talented graduate students interested in studying acoustics to receive The McKinney Fellowship, named in honor of Chester McKinney, who served as ARL:UT's director from 1965 to 1980. This competitive fellowship encourages students to perform acoustics-related research at the university in exchange for a compensation package that includes a stipend and payment of tuition and fees, a $3,000 cash award, and support for attending professional meetings related to their research.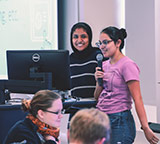 ARL:UT's Center for Quantum Research offers a course stream through the university's Freshman Research Initiative (FRI) stream which enables students to gain research experience from the beginning of their college career. In this case, students learn about the cutting-edge of quantum computing and its applications to real-world problems.
ARL:UT researchers frequently present in the Acoustics Program in the Mechanical Engineering Department. Typically once a week during the long semester, an expert speaker in the field of acoustics gives an in-depth presentation on their work to graduate students and faculty. These seminars are free and open to the public.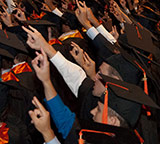 Staff Tuition Assistance Program
Full-time employees may access the university's Staff Tuition Assistance Program (STAP), which provides tuition and fees for one undergraduate or graduate course per academic semester. Please see the university's STAP webpage for more information about eligibility. In addition to STAP, full-time staff have opportunities within ARL:UT for tuition and fee reimbursement, as well as flexibility in work schedule for coursework relevant to work done at ARL:UT.
About banner photo
About the Banner
Summer high school apprentices and advisors testing equipment at Lake Travis Test Station (LTTS).